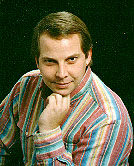 Kevin Little
klittle@mad.scientist.com
Best Viewed With
This site has not been "optimized" to be incompatible with browsers other than Micro$oft's
---
It is dark.
If you keep going you may fall into a pit.
You have fallen into a pit.
Your score is a pitiful 47/360.


How about a browser that doesn't require MS-Windows?
---
My informational links
This is all information I have written, available here at my site.
---
Other informational links
---
Commercial links
Stuff on other sites that makes me money if you click on it.
---
You are the
th visitor to this page.
---
An example Java Applet modeled after the old bouncing ball...
Result of running the Java Applet: